Early this year, when a friend heard I was going to be visiting Portland over the summer, she insisted that I schedule my trip to coincide with Potlatch, one of the biggest ultimate tournaments in the world. She's been trying to go for 10 years but hasn't made it, and was determined that I go in her place.
Fast forward to a few weeks ago, I'd decided to go, and Greatest Bag was also able to join the tourney as a last minute sponsor. A friend found me a spot on a team from Olympia. I didn't know any of my teammates, but figured, they're ultimate players, how bad can they be? Turns out they were awesome. I was immediately welcomed, given plenty of encouragement on the field, showered with beer and snacks all weekend and even scored a place to stay in a teammate's tent. (I didn't bring one!)
All the teams dressed up, and it being 4th of July weekend, ours went with a very subtle AMERICA! theme.. and played all our games in costume. There was a Pink Tutu Team, a team of cows, XXX-Men, the characters of Adventure Time, and many more! The tournament had a laid back, relaxed feel - exactly what you want on a long weekend away from work and spent with new friends.
The dedication to costumes and spirit was like nothing I'd ever seen, and I had a blast playing everyone's spirit games, many of which I'd never even heard of.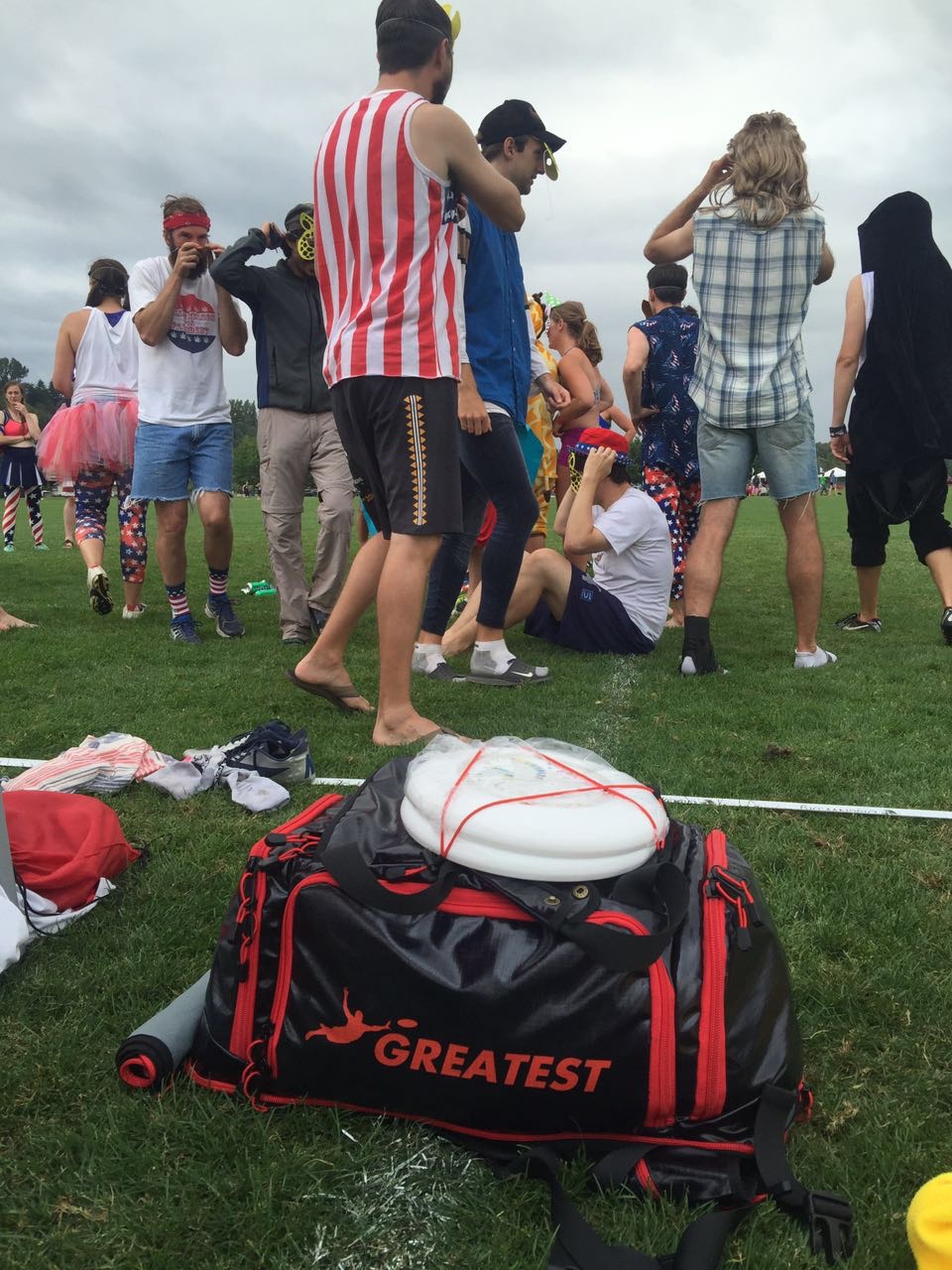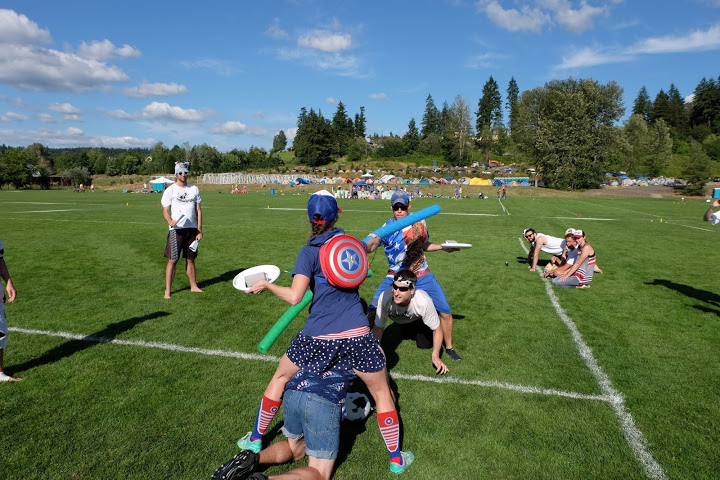 After the Saturday games, my team car pooled to nearby Lake Sammamish to go for a very cold dip before heading back to the tent camps surrounding the fields. Some camps had a whole bar and music setup!
Sunday night was the big party at Redhook Brewery, where everyone sat around on the grass enjoying some good food and (free!) beer, listening to music, and chatting with friends. Before long it turned into a massive dance party, and the best dressed guy and girl at the party won Greatest Bags! Congrats to the winners!
Playing the next day was a bit of a struggle, but with some breakfast and a first game bye I managed to rally. By the end of the day I had a hurt toe and ankle, so I sat out our last game - one of 3 teams in the pool E ménage à trois finals! I sat there cheering them all on, thankful that I'd let my friend talk me into being a part of this tournament, that I'd ended up on this team, and for being a part of this huge ultimate community. We sure do know how to look out for each other. #frisbaes
A big thank you to the Tournament Directors for letting us give out the Greatest Bags as the best dressed prizes!